Safety is a very important part of our operation and is taken very seriously at Mechanical Solutions, Inc.
We believe that no job can be considered a success without all of our employees returning home safely each day. We firmly believe that the safety of our employees, customers, subcontractors, the public, and the environment cannot be compromised by our operations. We will always place safety ahead of all production goals. If a job cannot be completed safely it will not be done.
With a dedicated safety professional in-house, we maintain monthly safety meetings, daily toolbox meetings and continuing education to employees, giving everyone all the tools they need to perform their daily functions safety.
Any questions, please contact our Process Safety Manager Scott Sandefer, (505) 947-6901.
More on our safety philosophy.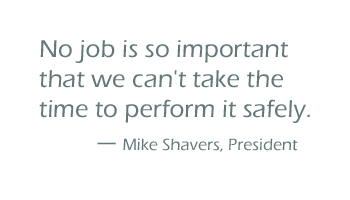 ---

Member of ISNETWORLD
Zero Tolerance Drug and Alcohol Policy
DOT Regulated
We are in the process of achieving ISO9001 status.